Boonie Hats for the Army Man
Boonie hats are also referred to as bush hats. They are wide-brimmed hats that are usually used by military forces all over the world. The designs of these hats for men are similar to bucket hats but with firmer brims. The hat usually has branch loops or fabric tape band that is sewn all around the crown. Sometimes referred to as foliage ring, the band is used for holding additional vegetation for camouflage purposes. Stability is delivered by a strap while air vents are provided by mesh panels and rivets. In addition, there may also be snaps to fold the brim in the style of the Australian bush hat.
Military boonie hats are made according to military specifications, and are manufactured using durable but breathable material such as cotton and poplin. There are many different designs and brands that are available such as the Propper boonie hat, which can be found on the market in various standard military colors and camouflage patterns.
These hats were first used by the US military during the Vietnam War. From then, it became a main component of military personnel attire, especially with the US Army Green Berets.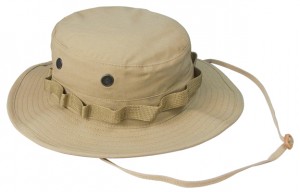 The wide brim of the boonie hat provides ample protection from the sun to its wearer. The chin strap can be adjusted while a mesh vent could be incorporated on the crown to provide a cooling effect.
Boonie hat shopping guide
Most people might think that they do not need instructions on how to wear boonie hats and what size is perfect for them. After all, these are things that one should know instinctively. However, those who have worn bush hats for years developed a particular flair for wearing them, ensuring that the hat stays on their heads firmly and with the least amount of wear and tear.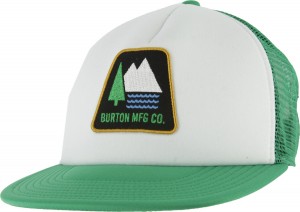 Choosing the right size – When trying on your boonie hat, you may find a size that is too small but the next bigger size is too large. It is recommended that you choose the smaller size. Fabric, which is the material for most hats is breathable and will stretch over time. Unlike trucker hats wherein you can adjust the size or fit whenever you want to, it is completely different with the boonie hat. Try giving the hat a head start by putting it on a knee and stretching it. Through time, your hat will mold to your head shape, giving you ultimate comfort.
Putting the hat on – When wearing the boonie hat, smooth away any hair that is on your forehead before placing the hat front on your head. Then with the use of your palm, push your bush hat down starting from the back of its crown. You can wear your boonie hat with its brim at eye level or push it back in the characteristic laid back style of the Aussies.
Taking care of the hat
Avoid tugging on the brim of your bush hat to ensure that it is on properly. This will cause tears and other damages. You should also avoid sharp edges from coming into contact with boonie hats as these can cause tearing.